Role: ✔ Admin, ✔ Team Manager, ✖ Employee
What is the Spenmo Bill Dashboard?
The Bill Pay Page is a feature that allows users to conveniently upload their invoice payments via the Spenmo Dashboard. Once uploaded, the invoices will be reflected on the 'Transactions' tab, under 'Bill Transactions' on the dashboard.
How do I use Bill Dashboard?
1. Hover over the

icon on the top left of your screen, and select 'Bill Payments'.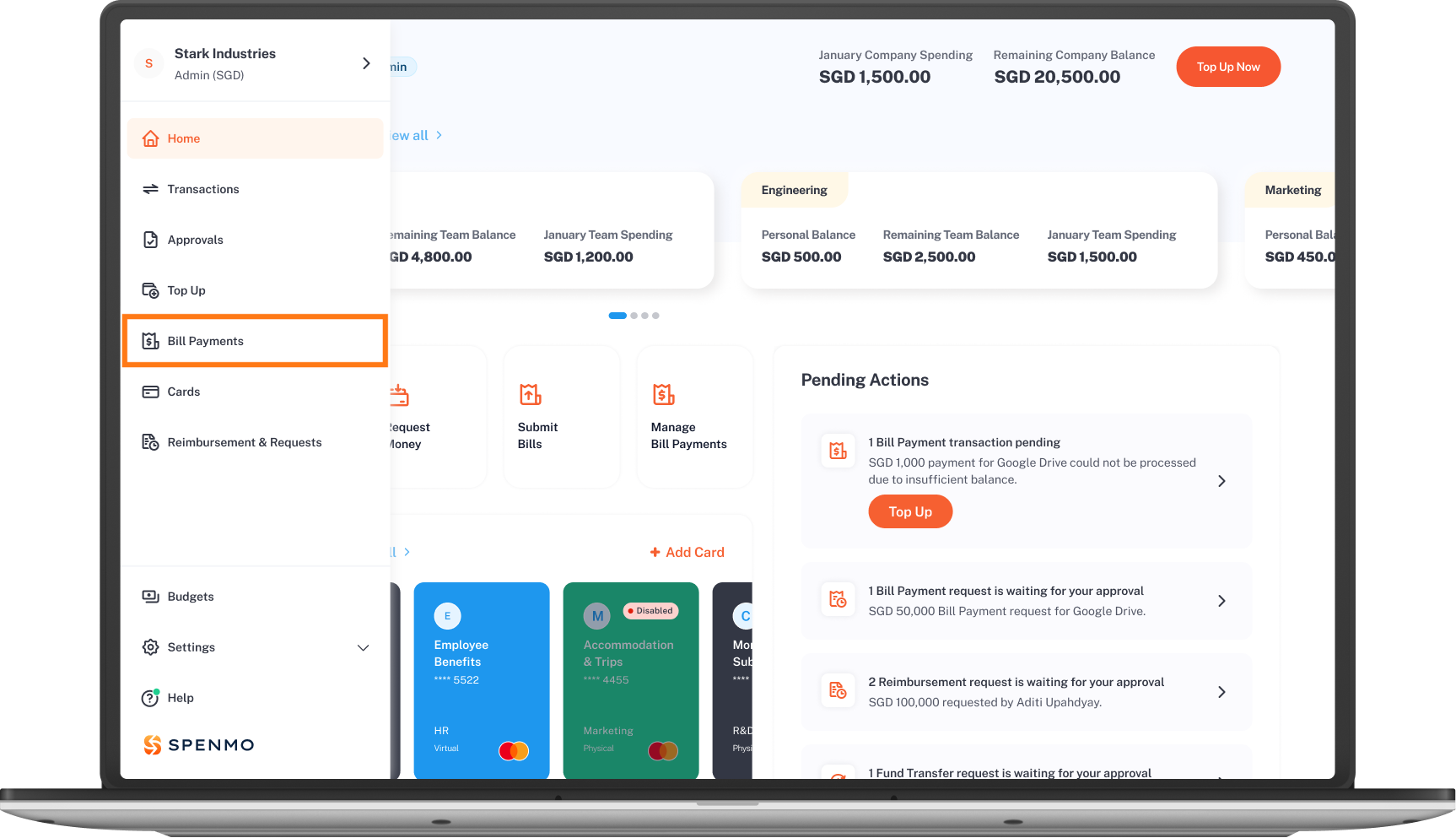 2. Once you're on the 'Bill Payments' page, you'll see the two different methods to upload your invoices.
To facilitate your invoice payment process, we've added a FX calculator on the right. This calculator allows you to estimate the exchange rate & processing time required for your invoice payment.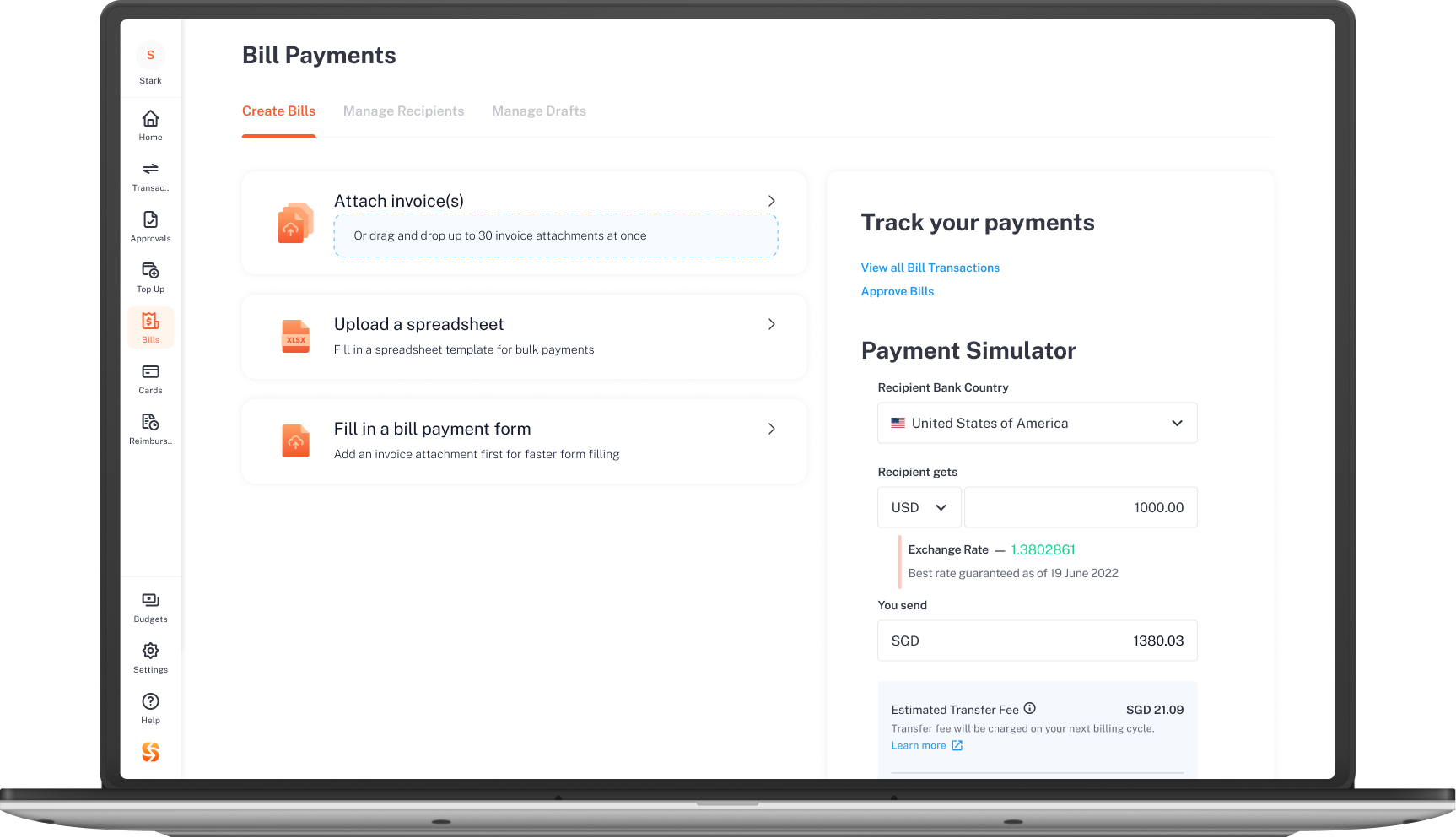 3. Proceed to upload your invoices for payment.
Method 1: Attach Invoice(s)
You can drag and drop or attach multiple invoices through the "Attach Invoice" option. Once you upload or drop your invoices, they are smart scanned automatically and created as individual draft bills. You can review the draft at your own time, then submit them for approval and payment processing.

Method 2: Bulk Upload
If you want to upload multiple invoice payments at once, select the Upload XLSX file for multiple bill payments option. This will take you through a 3-step process to upload your XLSX file.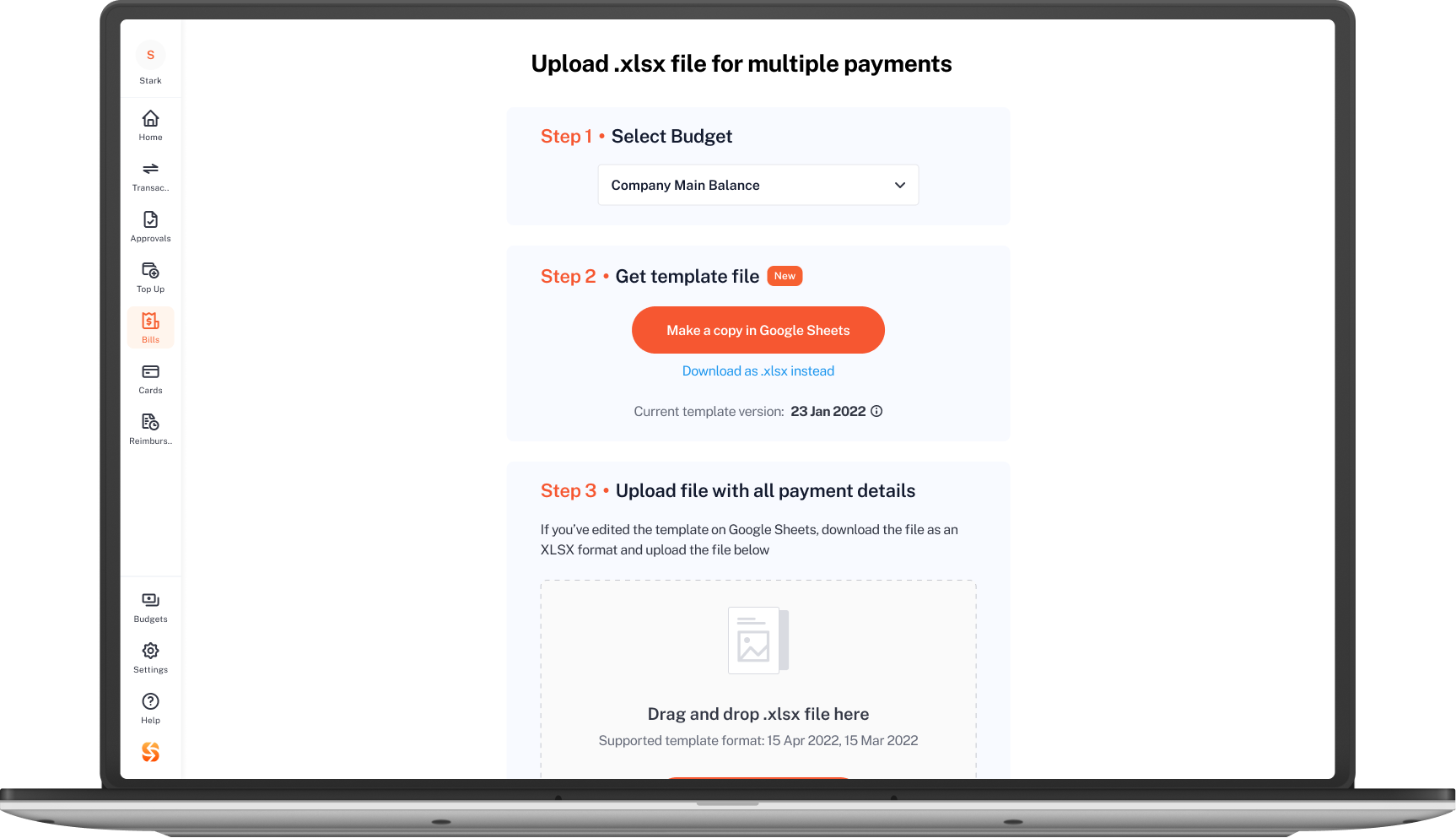 1. Ensure that the wallet selected is the correct wallet from which the payment should be deducted.
2. Download the template. Open the template in Google Docs instead of Excel or Numbers for the best user experience. Proceed to input your invoice payment details.
3. Upload the completed XLSX to the dashboard.
Once done, submit the file for payment. Your invoices will be processed. To check the status of the invoices, please go to your 'Transactions' page and look under 'Bill Transactions'.
Alternatively, if your approvals feature is on, after submitting the template, each invoice will be reflected under the 'Transactions' page > 'Bill Transactions' > 'To Approve' for the administrator to approve before the invoices are processed for payment.
Method 3: Single Upload
Select the Upload invoice file / type payment instructions option. With this method, you can upload your invoice directly by selecting 'Browse files' to automatically populate the relevant fields. Or, if you do not have an invoice, you can manually input the details on the right side of the screen.
If you upload an invoice, make sure you double check the populated fields under 'Payment details'. Remember to edit or fill in any of the wrong/ missing fields.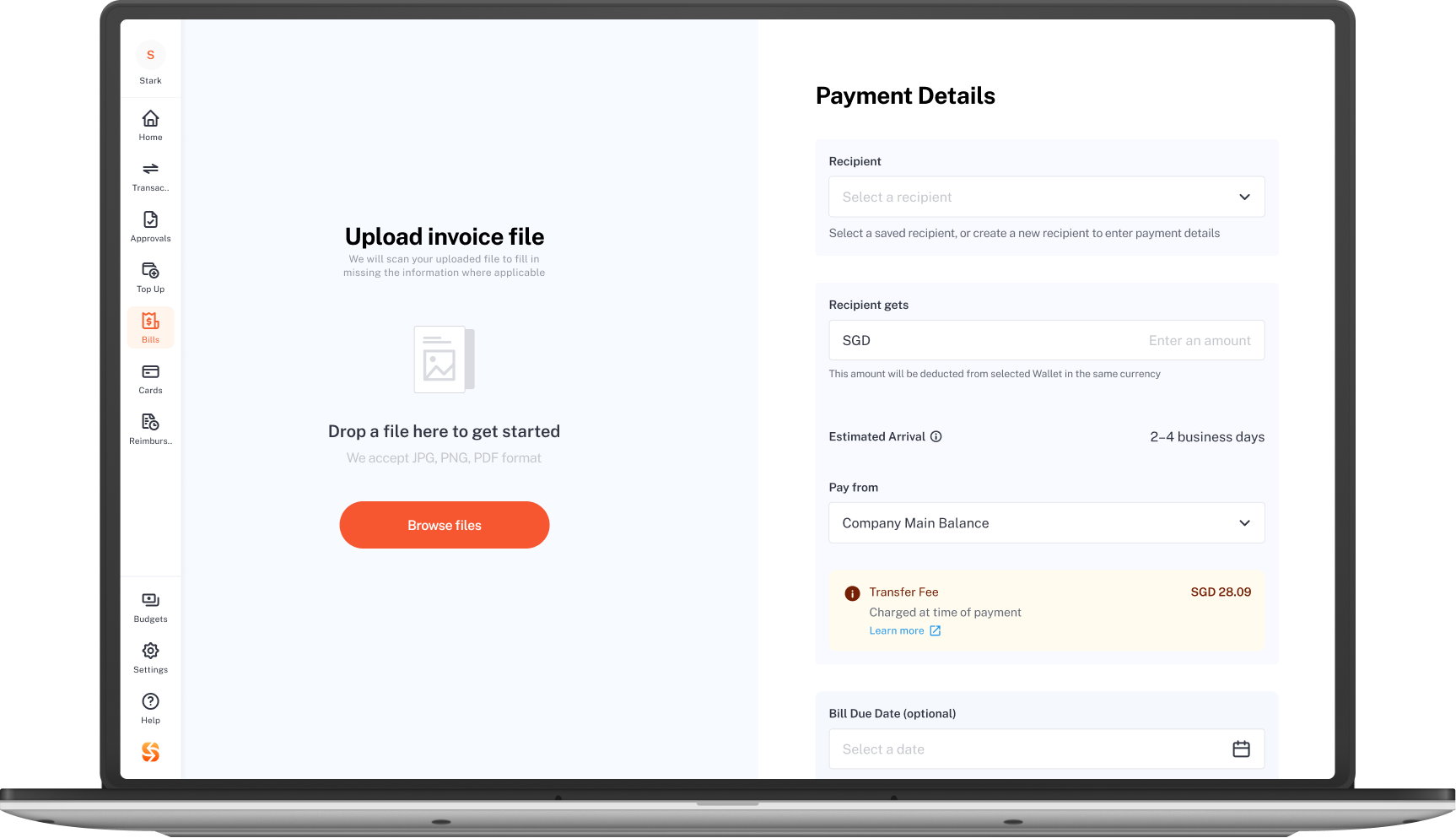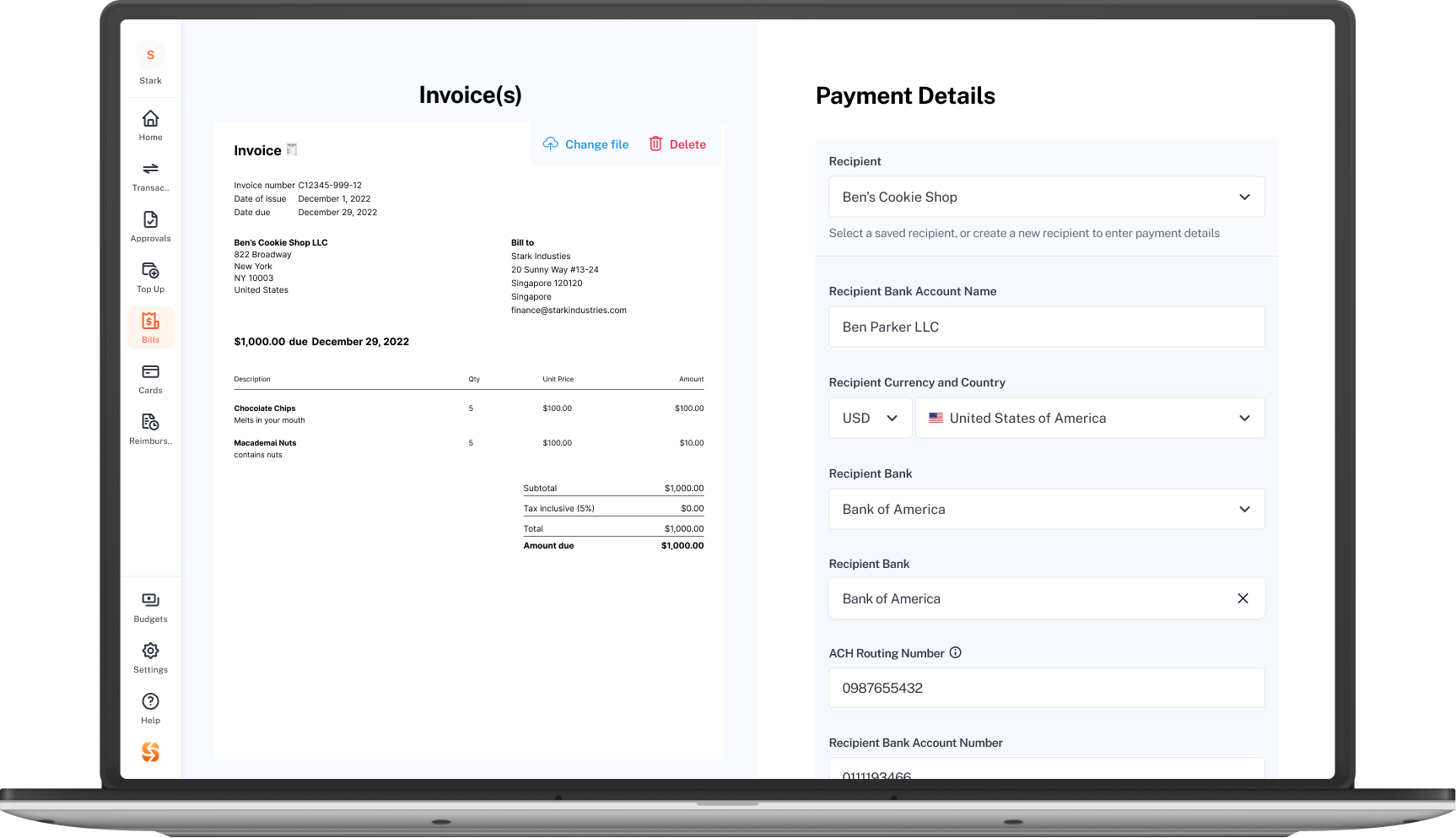 Once you're done filling out the bill details, select 'Preview Bill'. You will be brought to the bill preview page, where you can check over all fields before submitting for approval.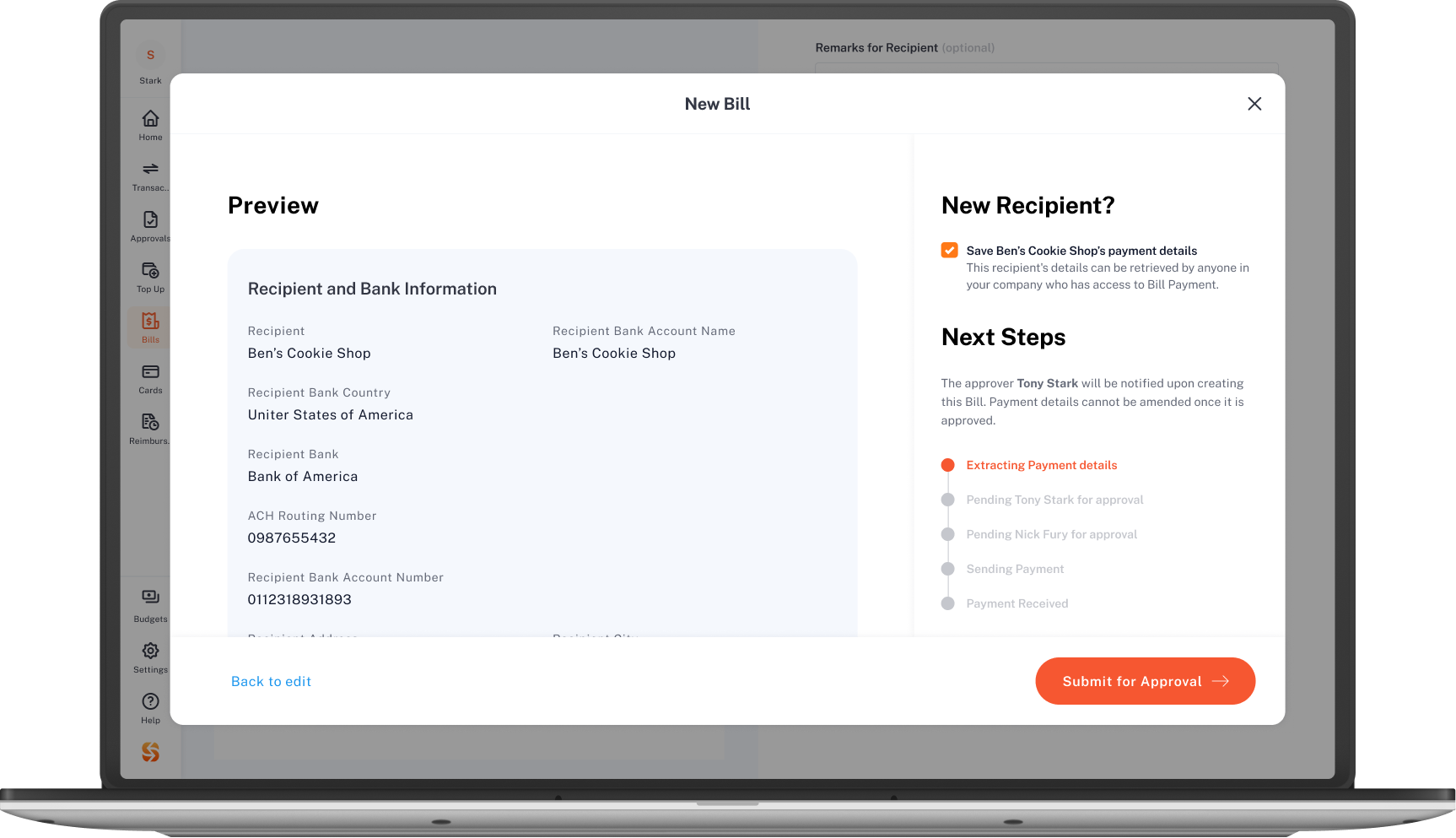 Once confirmed, click 'Submit for Approval'. Your invoice will be processed. To check the status of the invoice, please go to your 'Transactions' page and look under 'Bill Transactions'.
Method 4: Dedicated Inbox
The third method is upon request. This method allows you to send your invoices to your own unique Spenmo email address for processing.
This means you can pass this unique email to employees or vendors, allowing them to email the invoices directly to us. Since the email address is unique to you, our team will be able to recognise that all invoices sent to this email need to be paid by your account. We will then process them accordingly.
1. Find your unique Spenmo email under your 'Bills' tab.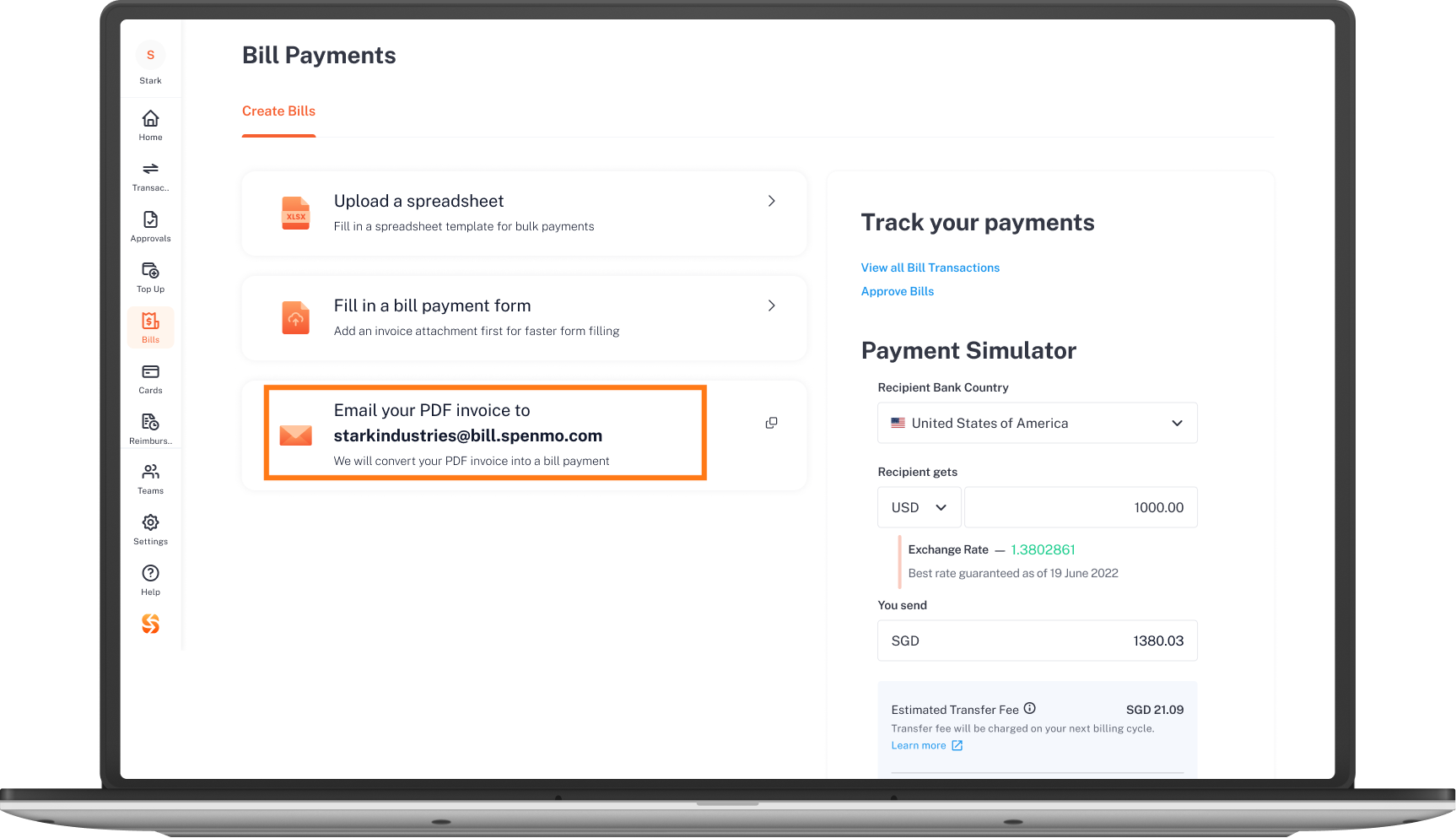 2. Send the email containing the invoice to your unique Spenmo email address.
* Invoices must be sent as separate attachments. One attachment cannot contain multiple invoices. If you do not have an invoice to attach, please use Method 1 or 2 above.
3. Your invoice will be uploaded to your dashboard in the 'Transactions' tab under 'Bills'. Once the details have been extracted, the status of the invoice will change to 'Waiting for Approval'.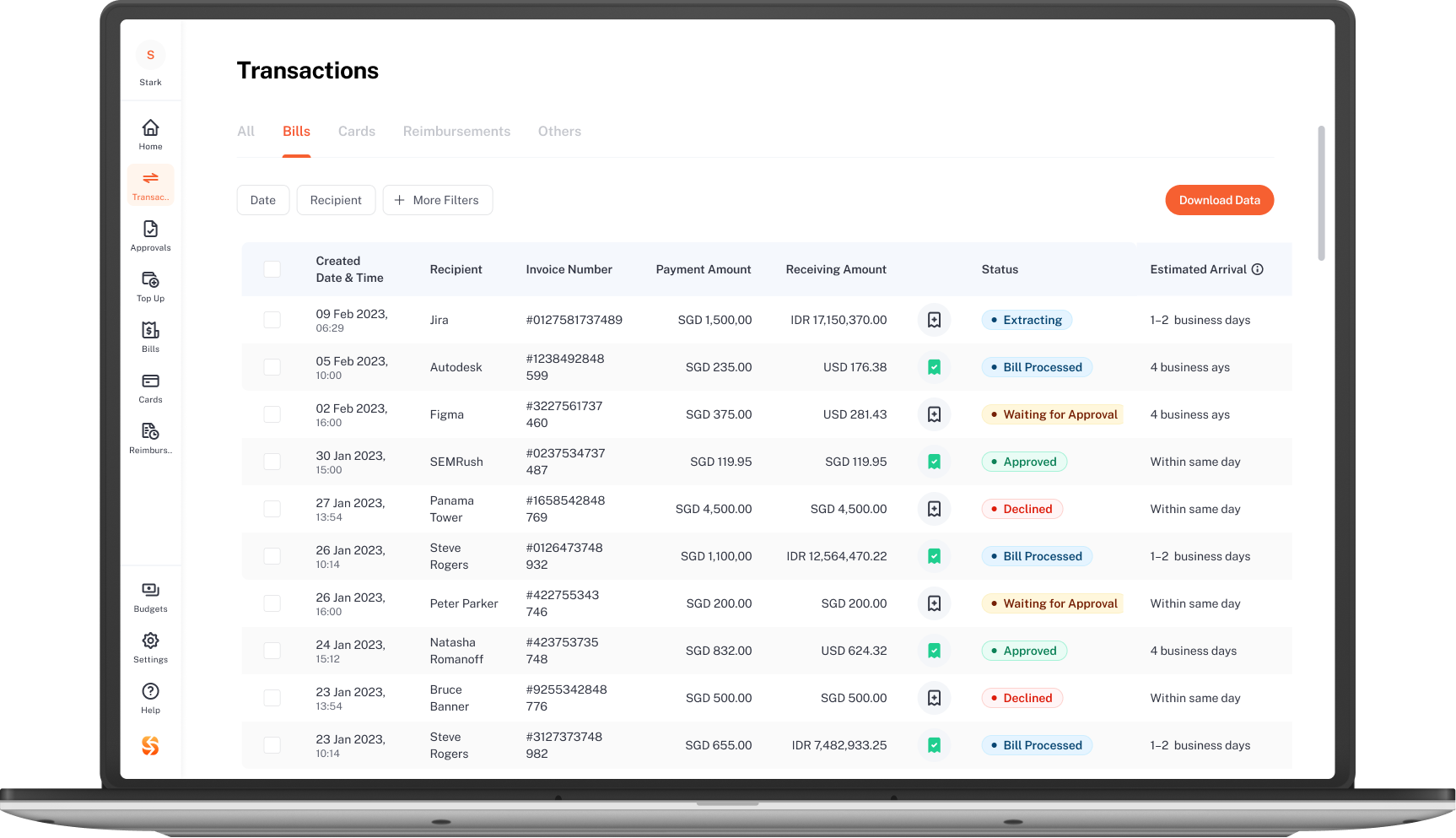 4. The selected approvers will then have to approve the invoice before it's processed for payment, under the 'Bills' tab on the 'Approvals' page. Once the invoice has been approved, the status for this invoice will be reflected as 'Approved'.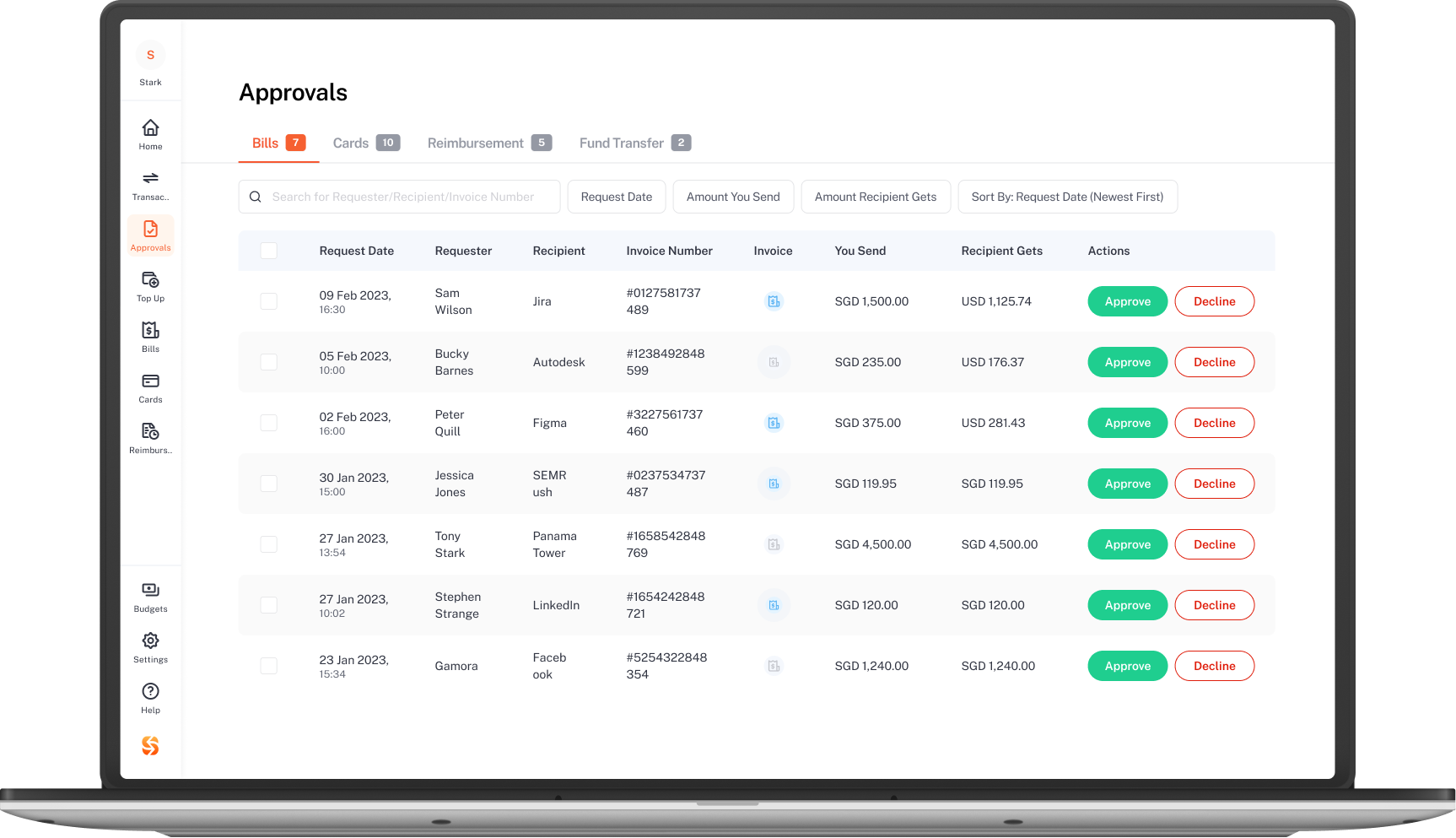 Things to note while using Bill Pay Page
Do not submit duplicate payments
When uploading invoices, please ensure that you only submit them once. For example, if you use Method 1, please do not upload the same invoice again using Method 2 or Method 3. Doing so will result in duplicate payments. Please let us know immediately if you've submitted duplicate invoices. Spenmo will not be responsible for duplicate payments if invoices are submitted to us via more than one channel.
Does your wallet have sufficient funds?
Before uploading invoices for payment, make sure that your company wallet has sufficient funds to make the transaction. Invoices cannot be processed if your company wallet lacks the funds. Learn how to top-up your wallet here.
Have you approved your invoice payments?
Make sure the administrator remembers to approve the uploaded invoice payments as unapproved invoices will expire** without being processed. Invoices awaiting approval can be found on the 'Transactions' tab under 'Bills'.
**Do take note that the invoices you submit will expire 5 working days (7 calendar days) after the scheduled payment date if it remains unapproved or your Spenmo wallet is in a low balance state.
Notes:
Our cut-off time for Invoice processing is 6PM SGT or 5PM WIB. Please send/approve your invoice before the cut-off for same-day processing.
The SLAs found here will be adhered to by the Spenmo Team. However, the time it takes for funds to arrive in the recipient's account may differ depending on the receiving bank.

Click on the video below to learn more!

Please fill in this form for any additional assistance required.