In this article, you can find Frequently Asked Questions related to Bill Pay.

1. What are Bill Pay transaction fees?
Your dashboard will reflect the transaction fees during the Bill Pay submission process.

For further clarification, you can also refer to our pricing page or check with your account manager.




2. Are there any additional fees?
We do not charge additional fees for transactions. Any additional fees incurred will be dependent on your recipient's banks.

3. My recipient did not receive the full payment amount. Why did this happen?
For global USD transactions, your recipient's bank may impose additional charges that are deducted from the original transacted amount. As a result, your recipient may receive a lower amount than your originally sent payment.

To prevent this, we highly recommend selecting the "Pay Full Amount Guarantee" option during the submission process.


When submitting transactions through Excel, you can select the "Pay Full Amount Guarantee" option on the preview page.




Selecting the option ensures that your recipient receives the full amount. Please note that the option is not selected by default and you will have to select the option manually.

4. How long does it usually take for the invoice(s) to be processed?
Invoice processing time will be reflected during your submission process.

Local payments will usually arrive on the same business day. International payments can take anywhere between 1-5 working days.

Do reach out to our customer support at support@spenmo.com if you would like more detailed information about your payment.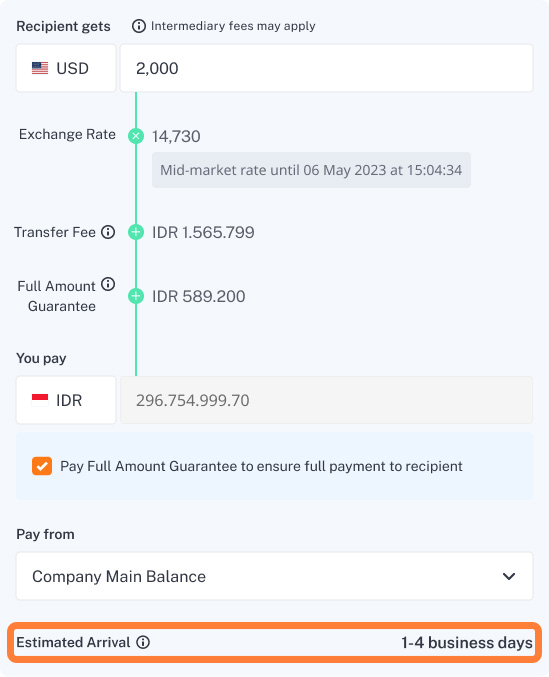 5. What if I don't have the invoice number to be inputted into the payment details?
We highly recommend keying in your invoice number so that you can track the status of your bill pay transactions.

However, if you use bill pay for payroll or other cases where there are no invoice numbers, you can leave the "Invoice Number" field empty.

Our system will process this transaction with an auto-generated invoice number so that you will be able to track the status of your bill payment transaction. This applies to bill pay transactions with any method, both for single bill payments and multiple bill payments (bulk)

6. My recipient has not received the money after 5 working days.
Step 1: Please review the receipt we sent you after making the payment to verify that the payment details are correct. This is because most delayed payments occur due to incorrect payment details.

Step 2: If all the details are correct, you can contact Customer Support (support@spenmo.com) and request for the MT103 payment message of your transaction. The MT103 message allows you to check with the receiving bank if the funds are being held. This is because the bank's compliance procedures may require additional documentation such as contract agreements or invoices.

7. My recipient says the money is being held in the receiving bank.
In these situations, the receiving bank must conduct additional verification directly with you for compliance reasons. Do contact the receiving bank to find out what documents they require for the funds to be released.
Banks will usually require you to provide documents to prove that money should be credited to the account - examples of such documents are contract agreements or invoices.

8. How do I check the exchange fees or lock in the exchange rate?
To lock in the exchange rate, you will have to set up Bill Pay Approvals on your dashboard. Click here for step-by-step instructions on how to do so.

The rate listed for your Bill Payment will be locked for 24 hours after it's submitted, during which the Payment has to be approved. If more than 24 hours have passed, we will adjust the exchange rate according to real-time market conditions.


Please fill in this form for any additional assistance required.