Role: ✔ Admin, ✖ Accountant, ✖ Team Manager, ✖ Employee
This article will serve as a guide on how to activate and use the Approval feature for Bill Payment.
Reasons to Activate the Approval Feature
To make your bill payment process more seamless and secure, we encourage you to activate the Approval feature. With the Approval feature, you will have more control over your making and checking process. This minimises the possibility of mistakes as you will be able to double-check the submitted bill details before our team processes the payment.
Activating the Approval Feature
Contact our Customer Support team at support@spenmo.com if you want to activate the Approval feature for your company. Once the feature is activated, the Admin can automatically approve bills or set approvers.
Using the Approval Feature
Scenario 1: The Approval feature has been activated for your company. You're an Admin and you want to approve a bill for payment.
1. On the sidebar, select the

icon and click on 'Transactions'.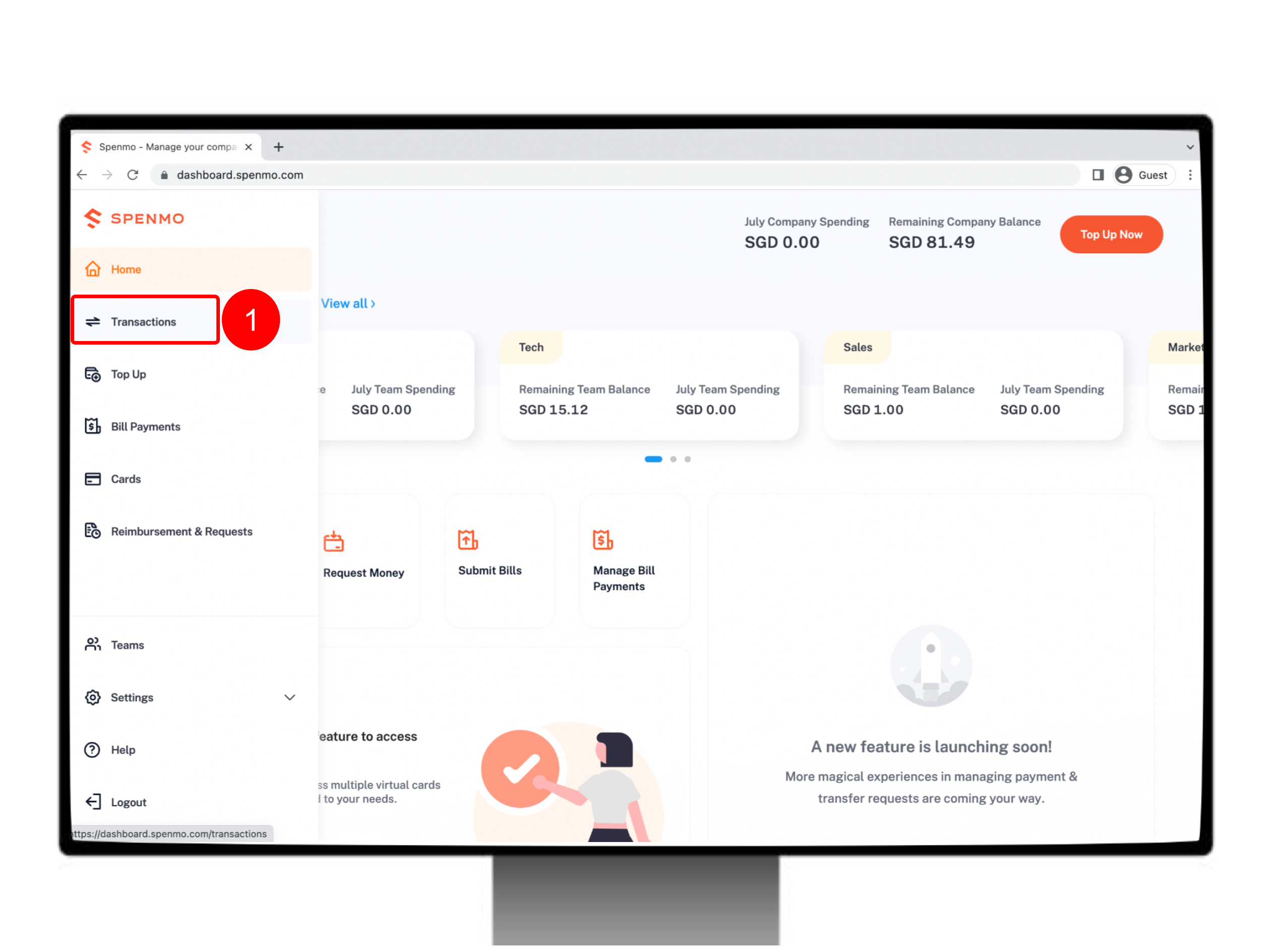 2. Click 'Bill Transactions' to view all submitted bill payments.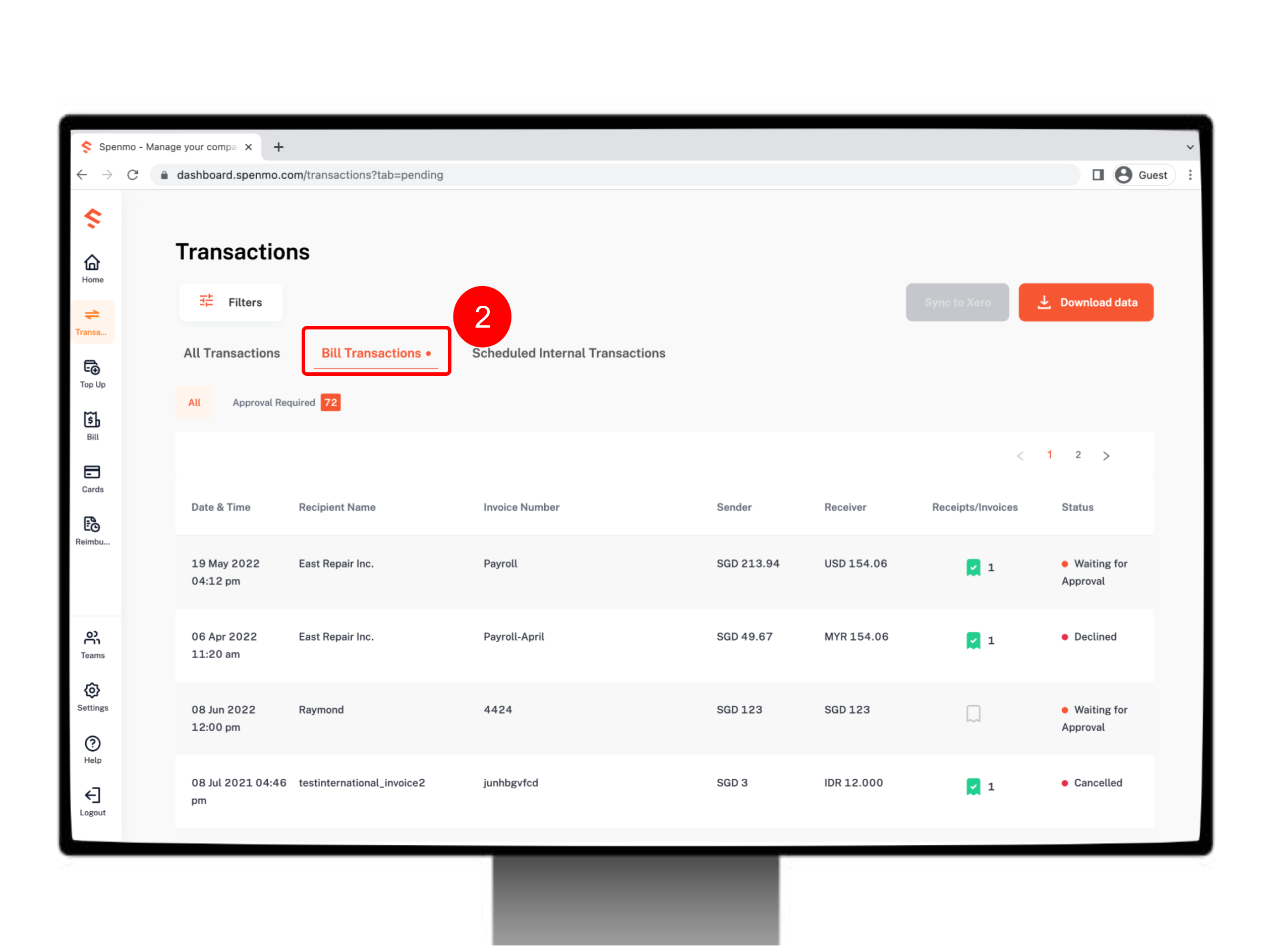 3. Click 'To Approve' to view bills that are pending approval.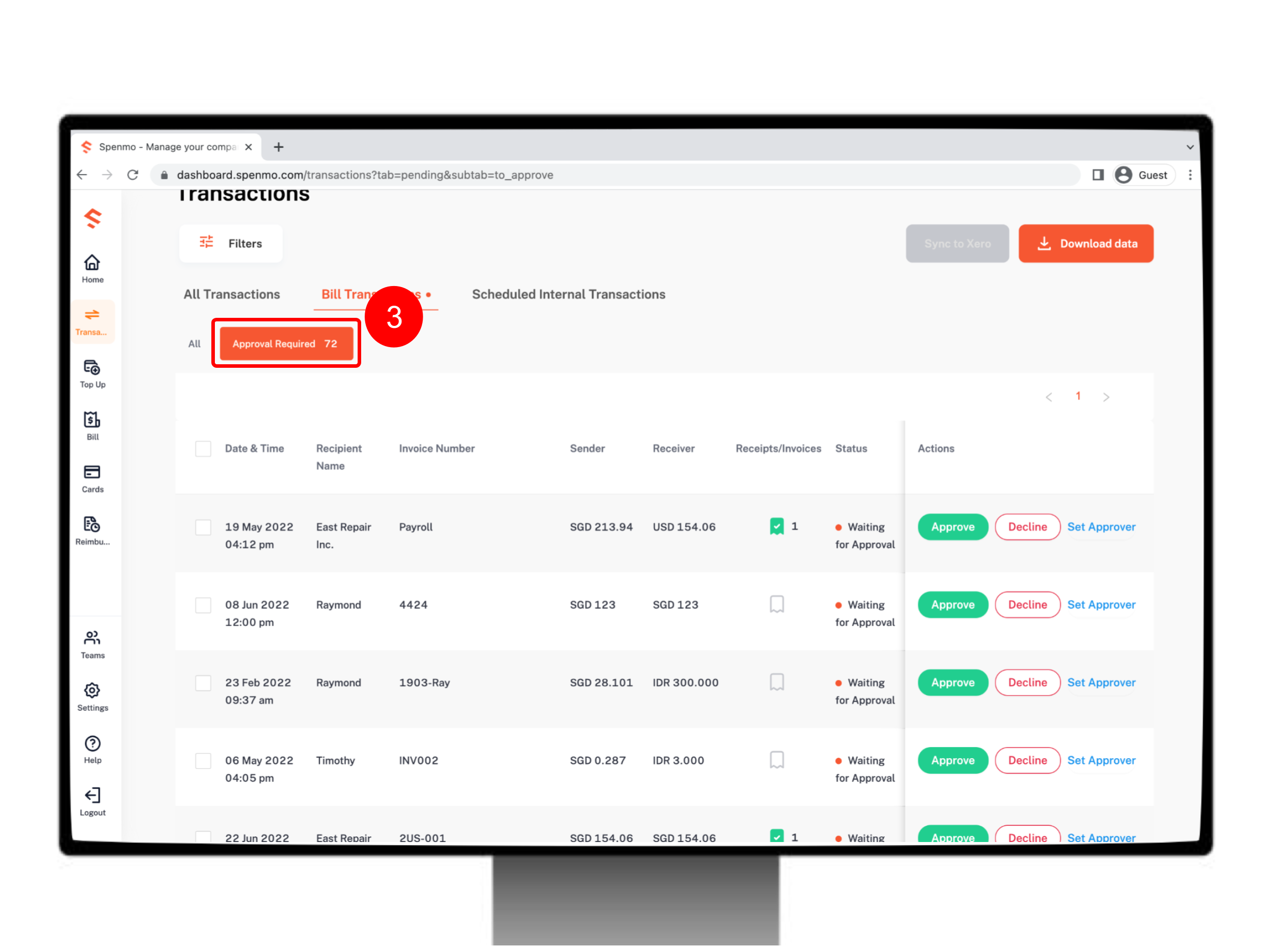 4. Click into a bill to double-check the submitted details. If everything is correct, click on 'Approve' to approve it for payment.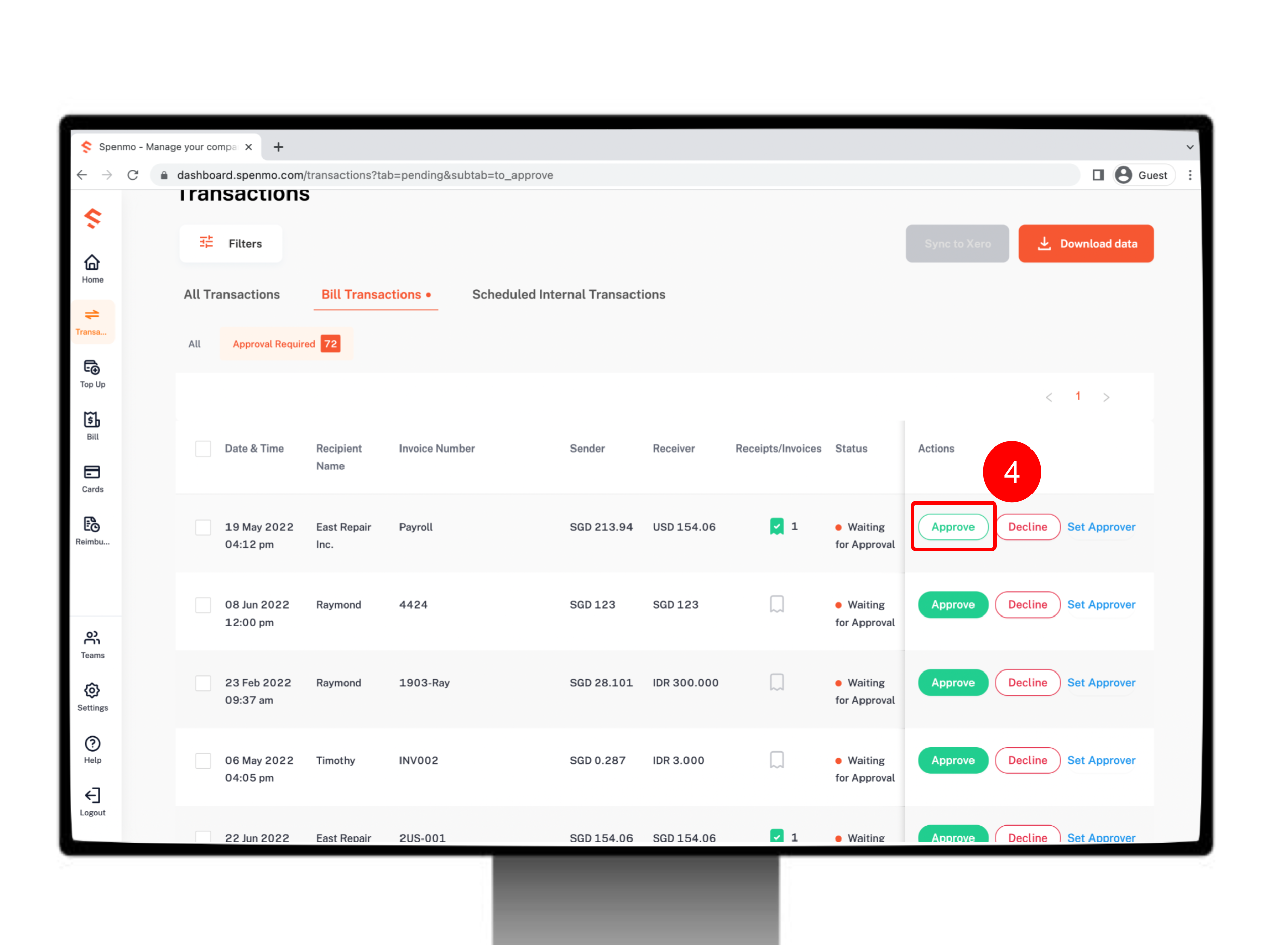 Done! A bill is approved. If there are mistakes in the bill details you've submitted, you can 'Decline' the transaction and re-submit it with amendments.
Scenario 2: The Approval feature has been activated for your company. You're an Admin and you want to set another person as an approver.
1. Repeat steps 1 to 3 from the scenario above
2. Click 'Set Approver'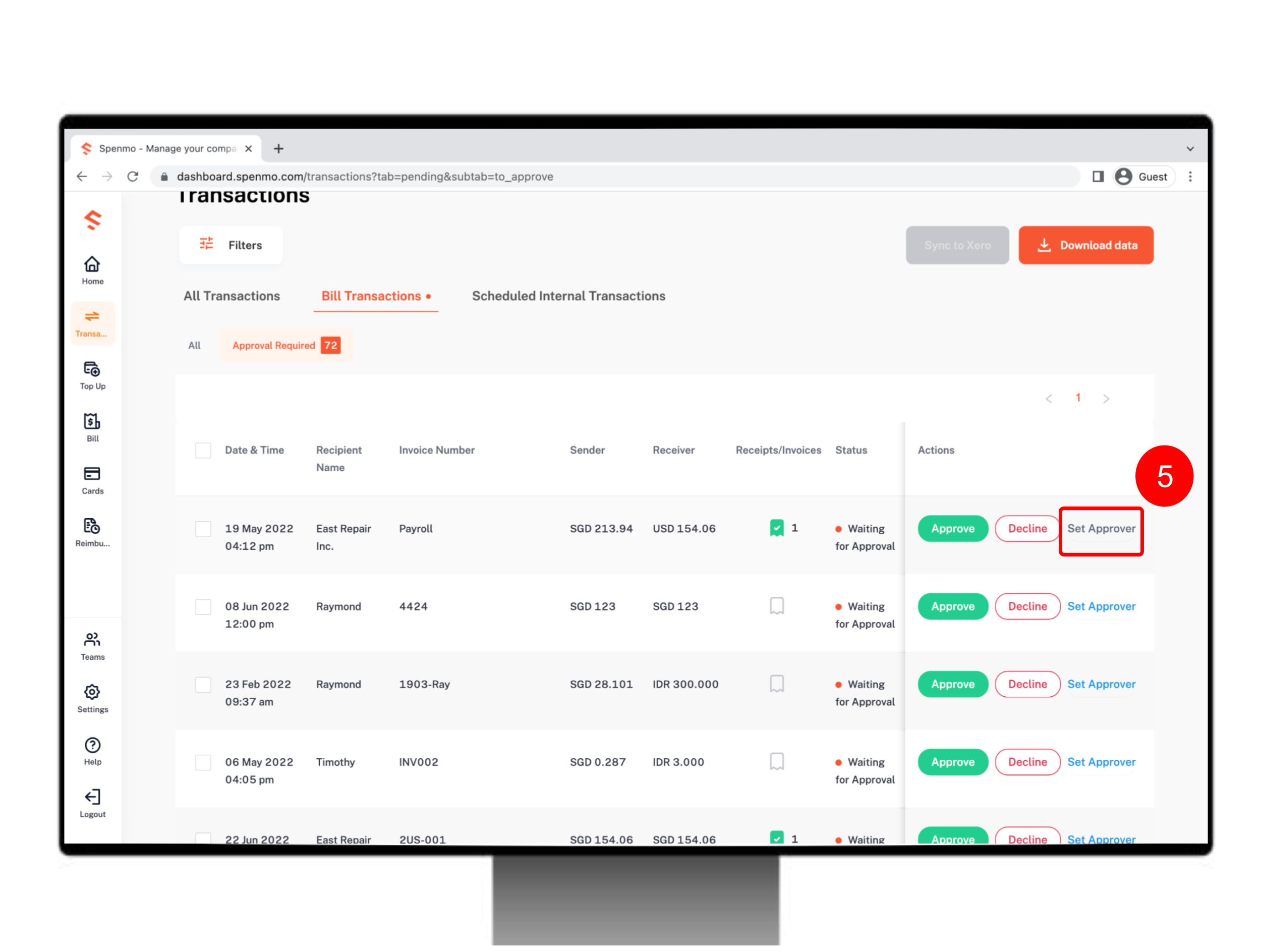 3. Choose an approver and then click 'Request Approval'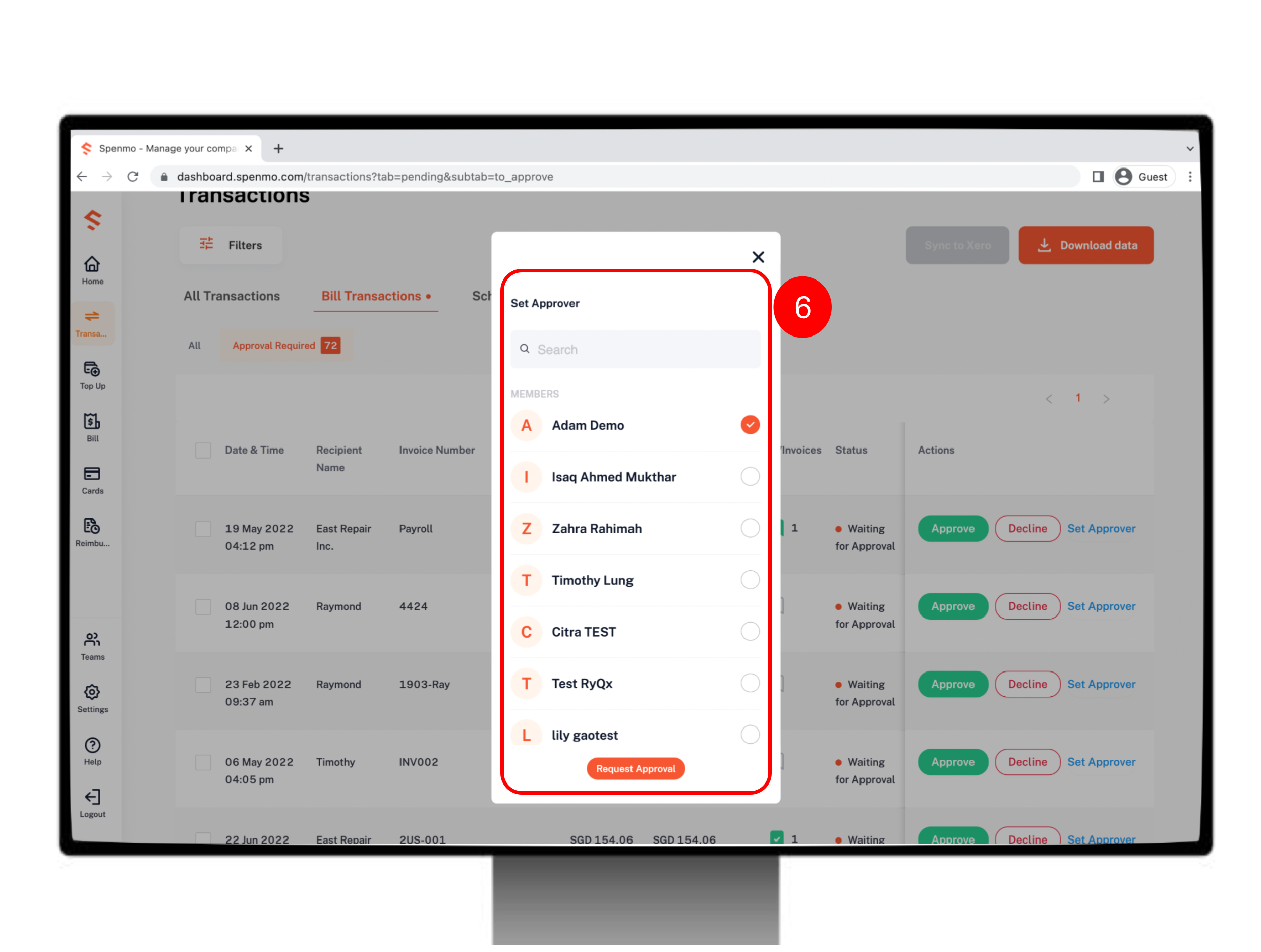 The specified approver can now approve the bill instead.
Note: Do note that the approver you set in this step is not permanent. The admins will always be the approver by default. So if you want to set a different approver, you'll need to complete this process for each bill you submit.
Important Information
1. After a bill is approved, you can view the bill status on the Bill Transactions tab, by selecting 'All' and clicking into the bill.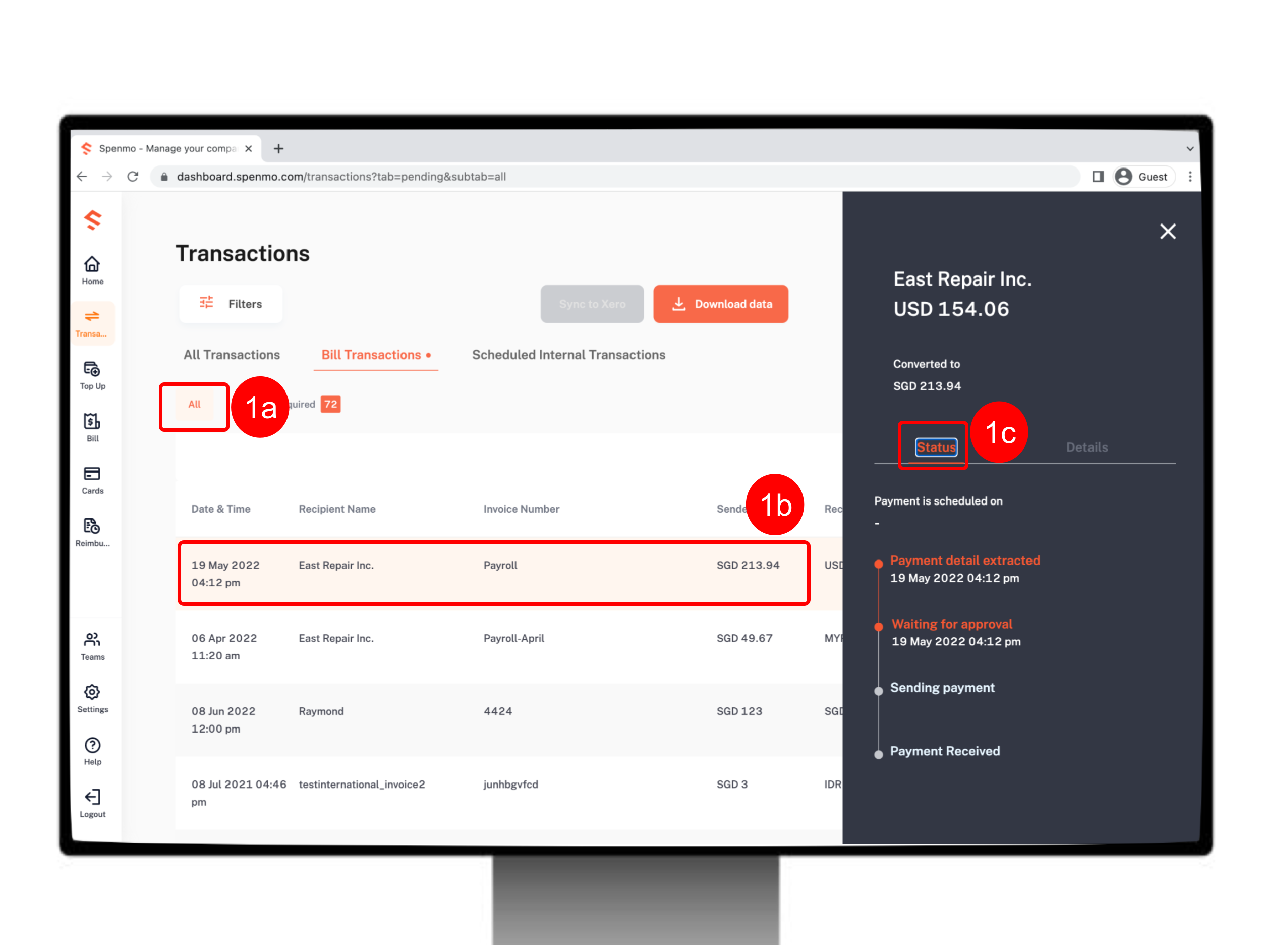 2. Currently, only Admins get the approver role automatically for Bill Payment. Team managers and employees are not able to do so unless given permission via Scenario 2 above.
3. Do take note that the bills you submit will expire within 5 working days (7 calendar days) after the scheduled payment date if it remains unapproved or your Spenmo wallet is in a low balance state.
Please reach out to support@spenmo.com for any additional assistance required.
Note:
Currently, we are unable to onboard employees that are based in China, USA, Hongkong and India. This is due to the respective countries' regulatory restraints. We're working on a solution to this and we'll definitely update you once it becomes possible.